Testimonials from Participant's:
I used to start training for my hiking adventures when pitchers and catchers reported. Then came the kids and bye went the trips. Felt good this year to beat the pitchers to spring training and start prepping for July family trip. I eat more avocados, almonds and cara Cara oranges than I thought possible but do way better overall the weeks I meal prep!
Down 14-15 pounds, a bunch of inches, and improved overall stats. I still love me some chocolate but looking forward to keeping up some of the challenge changes. Sarah Gibson, New Hope Pa
Sharing because I am so grateful to the best trainer I've ever known, Megan Marie!
 Thank you for teaching, encouraging, pushing and being pretty darn funny too.
I'm super happy and proud to be in this fitness class with other strong women.

I am learning so much more than I ever did in a gym.
I'm so happy I joined!
Iris Lauber
New Hope Pa
Love working out with Megan and the other women of boot camp! Really positive, supportive environment that works no matter how fit you are when you begin. I look forward to boot camp night and now would be perfectly happy to skip indoor gyms forever!




Lindsay Pullen

I lost tons of inches and also lost the joint pain I had. Scale wise I have lost a total of 24 pounds!
Thanks Megan! I'll let you know when I hit 30! Patty McGowan Wall Township, NJ (Fixed in 66! Challenge)

Megan is an awesome coach. She has the right balance of pushing you while respecting your limits. She is also a great person! Every workout is different which keeps it fresh and fun. The ability to workout outdoors is amazing. I highly recommend it to anyone who wants to be of sound mind and strong body!

Tina Fascetti, Newtown ,Pa.

Update: I'm still at it!
I've been with INF/Megan since 2018. Outdoor exercise has been life changing- especially during the pandemic. This is a great group of people who believe in health, fitness and who have fun while doing it. Don't be afraid of the term "bootcamp" either! I'd recommend this to anyone who is looking for accountability and who is looking to get back into a solid routine!


Elizabeth Pacelli, Lambertville, NJ.

Down 13 pounds and 1 inch in most spots. Not fully compliant but I tried hard. Thank you!!! Eva Wirth, Hazlet NJ. Fixed in 66! Challenge

I went through a difficult period of my life back in December of 2016. I ate a lot. I stopped working out. I didn't feel like me. When you break down the word "depressed" it sounds like "deep rest" That is what I did. It is what I needed. I didn't think I'd ever be able to find the motivation to workout again.

Time passed and it became very apparent that I was not feeling my best anymore. Physically is one thing- my clothes that I had owned forever weren't fitting…but it was my mental and emotional state that was the most difficult for me. The way my inner voice sounded… the things I would say to myself— it was not good.

One night in January 2018 I was meeting a friend at the Lambertville Station. I noticed to my left there was a group of women who were stretching and jogging around the parking lot… in the dark… in the cold!
This peaked my interest.
As I was leaving the parking lot that night I drove up to the group and rolled down my window and asked "is this some kind of club or something!?" To which they replied, "yes, Bucks Adventure Boot Camp— join us!"

The rest is history. I signed up for my first session in March of this year and haven't looked back. I feel great I have lost weight and I am so much stronger than I've ever been.
This group has become an irreplaceable part of my life.
I am so grateful!

Liz Pacelli
Lambertville NJ

Hi Megan!  I just thought I would sing your praises.  You must be doing something right.  As you know, my wife Lisa and I own the Bucks County Academy of Fencing.   Last week we were at our Hatfield, PA location, which is situated on a high second floor of a building about 20' above the main floor.  It requires two long flights of stairs to access.  We were dropping off a large order of fencing equipment involving some large heavy boxes and a big heavy bag filled with fencing masks.  I thought, "Great, this is going to be fun."  I was so impressed to see Lisa grab the big bag of masks in one hand (about 30 pounds) and two of the boxes and vault up the stairs ahead of me!  I thought, "Awesome!  Our money is being well spent with the In Nature Fitness!"

Mark Holbrow  & Lisa Martini

Dec. 2020
2/27/2020
Megan is an experienced and knowledgeable trainer who can personalize workouts to meet all of her clients' needs.  She goes above and beyond physical training by creating a Facebook page where she motivates clients by posting recipes, opportunities for races, social events etc. I would highly recommend Bucks Adventure Boot Camp!
Lauren Young , New Hope Pa.
Megan is an amazing coach! Her classes are fun- Yes that's right FUN!  Every time you go it's a different workout, so you really get to work out every muscle. Not only does Megan teach you the right way to workout, but she can help guide you to eat better. Her nutrition plans are delicious, my whole family enjoys the recipes. It doesn't matter if you've never worked out before, each of us does what we can do and Megan is right along side encouraging & guiding you.
Don't let the name intimidate you!
Melissa Emmons  
Stockton NJ

I've been doing this workout for more than 5 years and have never done the same one twice!  These sessions are different, fun, energizing and empowering. Megan is incredibly creative and resourceful, putting together workouts that are challenging and effective no matter your fitness level.  It's all the benefits of a personal training session with the camaraderie of a great group of people!
Gina Kneib, Yardley Pa.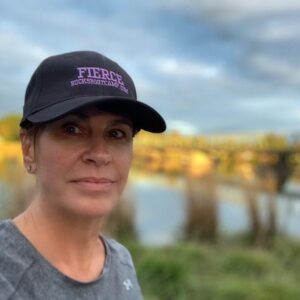 Just had a piece of delicious banana bread -your recipe! It was really good!Experienced firsthand the increased energy that is supposed to be a benefit of exercise!
I did a ton of work with soil preparation for my tomato plants then planted them, then came in and made banana bread and still have energy to go!
Normally I would be exhausted by now!
Thanks for all you do!
I definitely feel different compared to when we started!"
J. Malloy , Bensalem, Pa
If you want to get healthier/ stronger/ energized but need a little accountability; enjoy the camaraderie of great women and prefer the great outdoors to a gym, this is the best decision you'll ever make!  BABC offers varied workouts, accommodations for pretty much every limitation and a fully positive and supportive environment, all while achieving noticeable results. I visited a gym today with a friend, I could never go back to that after this!
Jeanette Jordan, Lambertville NJ 
I highly recommend this group if anyone is interested in joining me. There are several different times and locations, and the exercises tailored to each individuals of all different shapes, sizes, fitness levels and abilities.
In all seriousness, with the encouragement of a few really good friends, I limped to my first boot camp a few months out of hospital with an incredible amount of trepidation, anxiety, and self doubt. With the exorbitant amount of weight I had to lose and the certainty that I could be outpaced by any ant who took me on, I was pretty sure I was not going to last the first class let alone survive a winter of outdoor exercise! And yet survive I did! In fact I would lean more towards thrive.
I still have an exorbitant amount of weight to lose, but I now like to think of myself as a work in progress. I am however no longer trepidatious, anxious, or fearful about attempting exercise. After six months I am not only stronger and happier, but way more active, and am pretty sure if challenged by said ant, I could take him or her on.
I have met a great group of woman, made future goals that include half marathons and stair climbs with fully uniformed firemen, and I made it through the winter without my usual bout of winter depression. I have used all sorts of equipment, survived some creative forms of torture, laughed and cried, and accomplished more than I have failed. Megan has played cheerleader, counsellor, guide, and dungeon master, put up with every " I really dislike you side look" as she tells me 30 more seconds, and has shown remarkable patience with the number of times she has had to repeat the words left leg out Melissa, left, not right, left, no the other left.
 Give it a try, you wont regret it. I would love to see you there!
Melissa Victor, Langhorne, Pa. 
100% agree…I've been doing this for almost one year and it has changed everything about my health and fitness. INF is great!! Patti Niles Lambertville, NJ
"The truth- it works!
The first few days are the most challenging and it gets easier as the challenge progresses. My pants got looser and looser and I had to get rid of them for a smaller size! My family loved most of the recipes of the nutrition program, so that was a great support. I'm
glad I did the challenges and feel so much better! Would recommend to anyone who says 'their gonna do it this year finally' and has a difficult time staying on track and motivated. Just do it! You won't regret! Happy New Year!
A. Randazzo, Lambertville, NJ ( Outdoor Fitness Member & RD Nutrition Plan Participant)
Megan, Thank you, thank you, thank you for helping me get back on track!
Your style of training makes me look forward to our sessions,
and I look and feel better than I have in a very long time!
Will recommend you over and over again !
Lakeisha Taylor
Trenton NJ
Hi ladies! I'm new to the area and I just have to share with everyone a fun workout group for ladies that I stumbled across. Megan Marie with BucksBootCamp.com,… she is absolutely amazing!

I am so happy to have found her! Her classes are fun- (yes a workout that's fun!)and you get a great workout outdoors. Every time you go it's a different routine, so you really are working out every muscle. And not only does Megan teach you the right way to workout, but she can help guide you to eat better. It doesn't matter if you've never worked out before each of us does what we can do and Megan is right along side encouraging & helping you. This is not intimidating like a gym is. I've only been with the group almost 3 weeks and can see some changes in my body already. I'm sleeping better, eating better and have more energy. Which is exactly what I wanted.
Don't let the name intimidate you! Come join the fun. She offers morning or night sessions. Next session start August 14 and 15th, don't miss out on looking and feeing better ! 
Melissa Emmons, Stockton NJ

I'm 54, semi-athletic, and was looking for a fun way to tone up and improve my strength and fitness level. I was more than a little nervous about the words "boot camp" but Megan assured me that I could work at my own pace.
I thoroughly enjoyed the evening workouts, outside in nature all over beautiful Lambertville
and for the first time ever I was looking forward to an exercise class. Try it, you'll love it!!
Kathy McEntee. Lambertville NJ
Megan,
What can I say other than I wish I had hired you as
my trainer sooner!
You are an incredibly motivating and very knowledgeable trainer.
I finally saw results and somehow you made getting those results fun!
Getting to know you, first hand, has been my honor and pleasure.
I admire you greatly and am a better person
for knowing you!
Thank you!!
D.W.
New Hope Pa.
April 2017
I  have been a Boot Camp member for a couple of years off and on (life always seemed to get in the way). I left for a bit to try another exercise program because I thought the hours there would give me more flexibility. It wasn't the same. I found it to be too repetitive, so I quickly came back to Boot Camp in the winter of 2016.   What I love most about this Boot Camp is the variety of exercises and that it's always something different, the trainer is awesome and so supportive and will help me modify when needed, and the great friendships I've made along the way.  The other extra bonus is that it's a great stress reliever, especially since we spend a lot of time laughing along the way ,and having so much fun.   Doing all of this in the great outdoors around beautiful Lambertville, New Hope and Newtown can't be beat!
Deb Hunt,
I

am having so much fun while working out OUTDOOR'S with two exceptional and highly motivating & positive trainers and my team of challengers! Such an incredible journey and it's only begun! I urge anyone who hates the gym to try this out!!
Ryan Spreen, Lambertville NJ
Co-Ed Fitness Outdoor Fit Program
  I have been going to this Boot Camp for 5 years. It has been one of the best experiences for me! Megan, our trainer, is so knowledgeable, motivating, and creative. She teaches proper form of exercises to avoid injuries. We all work out at different levels, so she provides modifications for everything we do. We have so much fun, and Megan never lets anyone feel like they can't do it. Working out in the outdoors is such a unique experience, and I never get tired of it. This Boot Camp has been a total mind/body experience for me. I have never felt better, even on my worst days!
Kristin O'Grady Langhorne ,Pa.
My friend Kelly kept pushing me to try your boot camp. I wanted to work on my endurance and everything I had been trying at the gym by myself wasn't working. I didn't want to try it because I thought I would be holding up the other women in our group. I talked with you on the phone before signing up and you insisted that I could work at my own pace.
I just completed my full month! Megan, you rock! I am still very surprised at how far I came especially remembering that first day when I couldn't even jog to the stop sign! All the girls I met were great and all reassured me they were just like me when they first started. This bit of info, along with your constant support, kept me going! It was a fun experience. Loved being outside at Tyler. Thanks for pushing me!
Lisa Mickelberg
Richboro Pa.
I really NEED to get back to Boot Camp!! Boot camp is the only place that I seem to lose these darn stubborn pounds..It's not only a great workout but it is also a fun workout and before you know it the hour is over! Keep up the good work Megan…Hope to see you soon!!!
Kelly Weber Smith, Churchville Pa
I signed up for my first boot camp session in June with a bit of trepidation. Sure I worked out fairly consistently since January , but elliptical time and free weights and workout dvds and some light jogging hadn't prepared me to do a boot camp, had it? I wasn't sure, I was a bit intimidated and nervous that I wouldn't keep up with the rest of the group. Perfection has always been a stumbling block for me — if I can't do it perfectly, what's the point? At least, that has been my attitude previously!
With Megan's boot camp, I have found a new side of myself. No, I can't do everything right off the bat perfectly, but Megan encourages you to push yourself hard, but not so hard that you break! The group of boot campers is friendly and it feels very judgement free. There are moves that we do that at first I think…"Megan is crazy, I can't do that!" Sometimes to start I can only do one rep! But Megan is great about encouraging you to perfect your form and not worry about what everyone else is doing — be the best version of yourself. And slowly but surely, I have gotten better and increased my capabilities. Through two boot camps (June was Tuesdays and Thursday evenings, and July was Tuesday/Thursday evenings plus one 6 a.m. class a week), I have become stronger, faster, and more capable and confident in myself. I have learned to give myself a break and focus on how far I've come, and push myself to become even better. I have even managed to get up for the 6 a.m. boot camps, something I never thought I could do because I like my sleep! Over two months, I've lost 15 pounds and a lot of inches, and gained a lot of strength and tone. I'm looking forward to the August session…and this time I'll be doing MWF at 6 a.m.!
I encourage you to sign up for boot camp with Megan. If I can do it, so can you! See you there (I'll be the one getting there at 5:59 a.m.!).
Janeen Lawlor
Newtown, Pa.
**Update:I thought I would edit my post to provide my end of the year results after seven boot camps! Now I am down about 55 lbs since I started boot camp in June. So hurry up and sign up for the January boot camp starting on the 5th!!! It works, you will have fun with an awesome trainer and a group of hilarious and supportive women. Dec, 31st, 2014
---
Megan, I'm doing the happy dance today! I pulled out a old pair of jeans today. Now I haven't worn these jeans in 4 or so years. (they use to be my favorite) They didn't just fit me they are now a little loose on me! So excited!! Thank you for being a inspiration to me!
Barbara Bennett
Langhorne Pa.
---
Dear Megan, Thanks so much for everything. Rejoining boot camp was the best move I made this year, (boy, have you really amped it up!!)I am actually changing my work schedule to attend next session. PS Fit in my skinny jeans again!!!
Debra Jennings
Yardley Pa
---
Bucks Adventure Bootcamp  has been part of my routine for several years.  When I first met Megan, I asked for personal training lessons because I could barely move.  Five years prior to meeting Megan I was a speed walker who put 3-5 miles under my belt daily.  I was embarrassed to let anyone know I could now barely walk a quarter mile. 
Megan immediately created a safe space and loads of encouragement.  Within a few short weeks she had built my confidence up to joining the bootcamp class.  Though that particular camp had a bunch of Amazon athletic women who I found quite intimidating, I found they were quite the opposite.  Under Megan's talents, these women were working out at a much more accomplished level than I.  They were machines!  But any and all  accomplishments that I made during that camp was celebrated by all.  When I wanted to cave, someone was near enough to encourage.  And that has been the tone of all Megan's camps.  It's a place to get a work out, make friends, friendly acquaintances and have a few good laughs.  What a great way to start any day!
Meg Schenkman
Newtown Pa.
---
I really enjoyed my experience in Bootcamp!  I am very pleased with the results and lost inches and gained energy, and the park setting is both motivating and inspirational.
I highly recommend this program!!
Laura Lee Swope,
Richboro, PA
---
I truly feel every part of my body working. Never before have I had such an all over workout. It feels amazing afterward.
Kristin McGee
28 years old
Teacher
Holland, Pa
---
My name is Cheryl Serdaru I am 50 yrs old and a recent stay at home mom. I reside in Upper Makefield and have been on every diet and every exercise plan you can think of.  I was reading the Courier Times September of 2008 and came across an Ad relating to an all women's boot camp in Tyler Park. I  thought why not add this to my ever expanding repertoire. I decided to try this, but something was different, I worked out that day and never looked back. I found a friend in Megan (my trainer) as well as friends in all the people I work out with. Just think about working hard in a beautiful park with women you can talk to who are all there for the same reason and you not only build a better body but you build friendships that keep you coming back! You will LOVE IT!
Cheryl Serdaru
Upper Makefield
Bucks Adventure Boot Camp is much more than an exercise program.  Once you start, it becomes a wonderful, healthy addiction, a way of life.  Megan seems to know just what women need in an exercise program by combining fitness with loads of fun and lasting friendships.
Allison Crisp
Newtown Pa
---
Dear Megan,
I just wanted to thank you and to tell you that Bucks Adventure Boot Camp is , by far, the best fitness program I've ever done. As a college athlete I find most fitness programs are just not at the intensity I would like/need, however that all changed with "Boot Camp, Megan style"
As you know, I was unsure of how a program could be effective both for beginner as well as those more advanced, but I quickly learned you somehow make it all work.
I finished the 4 week camp with both loss of pounds and inches, I gained back the endurance that I had lost. The best part, I had such fun that the time just flew by. Thanks for everything, I will be back!
( Have you ever thought of coaching?)
Stacey Collins
College student
18 yrs old
---
My friend Amy told me about the bootcamp and we decided to try it together. I must admit the word "bootcamp" scared me. While I always tried to be active by walking and  infrequent trips to the gym, I definitely did not think I was ready for bootcamp. The great news was that Megan designs her bootcamp for all levels so there is no need to feel intimidated and as you advance, she tailors the class to each persons' endurance level. This was not scary at all, it was actually the first time I actually looked forward to working out.
Megan is incredibly motivational and always keeps it fresh and new so you don't get bored. The women I've met have been such a pleasure to work out with, I could not believe how quickly an hour could go by. The result:  My 45  year old body looks and feels better and stronger than it has in the last 10 years,  I've lost inches and went down a size.
Thank you Megan for making workouts fun for the first time. You are an inspiration for those of us who want to make a healthy change for the better.
Tina Fascetti Newtown, PA